Supported Housing
At the heart of everything we do is providing housing and support for people who are homeless or struggling with their housing situation.
High quality housing with support
Finding the right home
Our unique service means we can match people to the type of supported housing that is right for them. We will take into account the person's situation, housing location and what they want.
High quality accommodation
A Derventio house should feel like a home. That is why all our properties must meet our high standards. We carry out repairs and maintenance to keep every home in good condition.
Personalised support
Everyone who comes to us is different. We work with each person living in our housing to create a plan to work towards their goals.
Shared housing
Most of the homes we run are shared. There are many benefits to living in a shared home, especially for people who haven't lived independently before. Sharing a home can lead to new friendships and mutual support. It is a good way for people to get used to living independently while still having other people around.
Independent living
As well as housing we offer support to help people to resettle and manage their home life. We help people to understand what they need to do to keep their home, including their rights and responsibilities. We also support people to deal with their individual barriers and challenges.
Eligibility

Derventio's housing is available to people (usually 18 years and over), who:
Are homeless or may become homeless
Can claim Housing Benefit
Are willing to work with staff for a better future
Will thrive with low to medium support
Supported housing in the Midlands and South West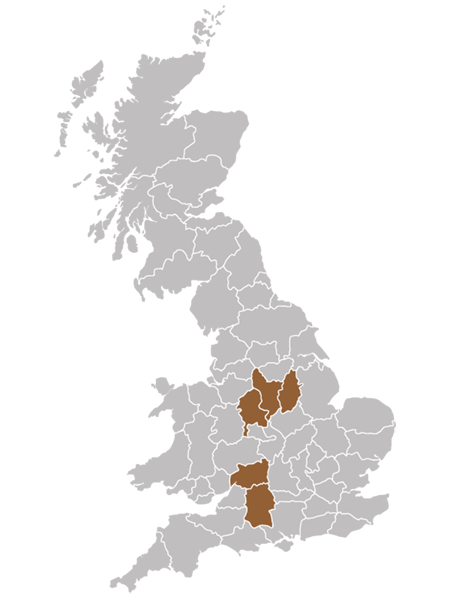 Derbyshire
Amber Valley
Chesterfield
Derby
Erewash
North East Derbyshire
Nottinghamshire
Staffordshire
Cannock Chase
East Staffordshire
Stafford
Tamworth
Warwickshire
Warwick and Royal Leamington Spa
Wiltshire
Get in touch
If you are homeless or worried about your housing situation, the first thing you should do is contact your local authority.
For more information about our supported housing please contact us on info@derventiohousing.com or 01332 292776. The referral form can be downloaded below.
If you own a property in any of the above areas we would love to work with you to create more suitable housing for people who are struggling.
Make a referral
The referral form can be downloaded below. Please email any referrals to:
Derby, Derbyshire & Staffordshire
referrals@derventiohousing.com
Warwickshire
warwickshire.referrals@derventiohousing.com
Wiltshire
referrals-sw@derventiohousing.com
Download referral form